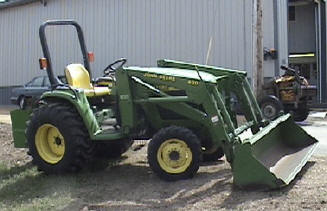 This is a great little used compact tractor for a hobby farm or truck farm. With the heavy duty John Deere 430 front end loader you can do almost anything. Around our shop anything with a front end loader get used almost every day.

This one was just used to unload construction materials off of a semi flat bed trailer. The neighbor across the road from us is doing some major renovations to his house and needed something to unload the pallets with.

We are always grabbing this one to unload engines and tire shipments.

A few days ago a couple bought a similar tractor, John Deere 4200, to use on their 50 acre farm they just bought in Wisconsin. They plan on having about 4 horses. growing some hay, doing some of the landscaping, and then being able to use the tractor in the winter to move snow and bring hay to the horses.
This Tractor is SOLD - but keep checking back with us, we get more tractors in regularly.


This John Deere 4400 Compact Utility Tractor has:

3 point hitch

Cruise control

Posi lock rear end

One lever joystick that raises and lowers the bucket while tilting the bucket up or down.

4 wheel drive.

Most compact tractors have a 2 speed transmission behind the hydrostatic, this tractor has a 3 speed transmission behind the hydrostatic transmission.

Low hours

Heavy Duty Tires

Power Steering

Roll Bar

The John Deere model 430 front end loader is more heavy duty than the standard John Deere 420 front end loader.