Model # 700423

This fully enclosed universal tractor cab is easy to install, there is one bolt on the rear tow hitch and 2 bolts on each footrest.
One model fits many lawn and garden tractors. Large vinyl windows on all sides make sure you can see what you're doing and where you're going. The tractor cab has air vents to prevent accumulation of carbon monoxide.

$475 - includes shipping (to your door) and handling to anywhere in the Continental US

This photo is the new for 2011-2012 revision of the garden tractor cab. There are larger window areas for increased visibility.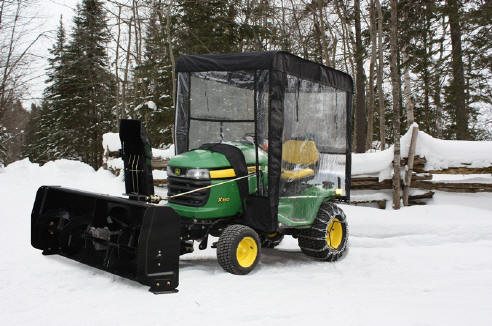 Garden tractor cab video

40 inches wide
49 1/2 inches long
56 inches high

Air vents
1 year warranty
* e-mail us and we will e-mail you an owner's manual.

Tractor cab Q&A's
The universal garden tractor cabs are now black and have larger window areas for better visability.

Need something larger? Check out the new Compact Utility Tractor Cab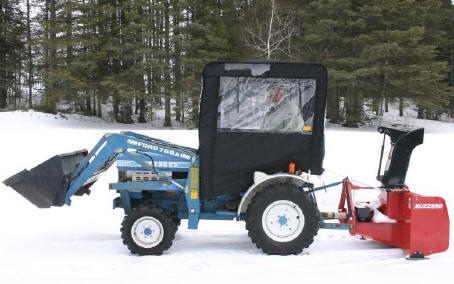 Debb sent us the above picture and e-mail:

Hi Jim ~
Here's a couple of pix of the cab for you to see how well it fits. We attached the frame of the cab to the roll bar and the loader frame on the tractor and it fits perfect!!! We are so jazzed! :-) All the controls for tractor AND the snowblower fit perfectly with it, too, as if the thing was designed for this little Ford.
Also, it arrived the Wed. after you sent it. Can't ask for any better service than that :-) And thanks for your personal service, too. What a pleasure to work with a business that feels like trusted family. Thanks!
Q: I'm impressed with the snow cab however I have one concern about the height of 68" to 74". My garage door clearance is only 72" from floor to top of door. Does the height of the universal cab include the 16" to 18" from ground to top of tractor frame? I want to be able to place my equipment in my garage. Could the max height be under 72" including tractor clearance? The tractor is a John Deere L120.

A: If your tractor clearance is 26 inches or less from the top of your rear fender to the ground you will clear a 72" height.

Q: Jim, I am interested in the Universal tractor cab and have a 1999 18 horse
Simplicity Landlord. It looks like from the Q and A on your site that it
will adapt to my tractor. I am wondering about storage the rest of the year. Is it easily taken apart and stored for summer? Do you recommend this or is
it damaging to the soft vinyl? I have very little space for storing another
large item in my shed.

A: This unit will store into a very small space. It comes in a box that is 48"
X 12" X 12". Disassembling it is not a problem. Yes, it should fit right onto your tractor.

Q: Will the universal tractor cab fit a John Deere LX 188 lawn tractor? Exactly how does it mount onto the tractor? How long does it take to install and then uninstall for summer use? Is there any type of manual wiper for the front window so if snow gets on it, you can easily get it off so you can see?

A: The brackets connect up by your right and left toes. The rear connects to your hitch. This is a soft windshield, you cannot use any type of windshield wiper. Remove 5 bolts and you will be ready for summer use. It will fit your tractor without any problems. There is also a screen cover available for this cab.

Q: Will your cab fit my new Kubota GR2100?

A: Yes, my new universal cab will fit your tractor, we have actually mounted them on a bigger tractor than that.

Q: Will your tractor cab fit an old series Honda 5518 with all wheel steering?

A: Yes, the cab is big enough for your tractor.

Q: Does you cab fit a Wheelhorse 300 series tractor?

A: Yes, our garden tractor cab will fit on your tractor and all the mounting brackets and hardware is included for most applications.

Q: Will this cab fit a 1988 John Deere 265 garden tractor?

A: Yes, our cab will fit right on a Deere 265.

Q: Will the Bercomac cab fit a Cub Cadet LT 1046? Is the summer screen included?

A: Yes, the Bercomac cab will fit on your LT 1046. The summer screen can be purchased separately but I do not think you would need it as the 2 winter doors roll up and are held up with Velcro strips.

Q: Will your universal cab go on a Simplicity Sovereign and do you ship to Canada?

A: Yes, our cab would fit your Simplicity Sovereign with no problems. Yes, we have shipped the cabs US mail to Canada.

Q: I've been searching for years for a cab that would fit a 1981 International Cub Cadet 1450 that is used exclusively for snow throwing. Will the Berco cab fit?

A: Yes, the Berco cab will fit right on your 1450 Cub Cadet.

Q: Will your cab fit a Toro Wheel Horse 520 Lxi?

A: Yes, our cab will fit on your 520 Wheel Horse machine.

Q: Will you cab work with a Case 222?

A: Yes, without a doubt my cab will fit your Case 222 garden tractor just fine.

Q: Will the Berco cab fit the John Deere 700 garden tractors and is it available in Canada?

A: Yes, my cab will fit the X700. We will send you one to Canada.

Q: I have a 1960's Bolens 850, will the universal cab fit these older tractors?

A: Yes, our cab is big enough to fit that tractor with ease.

Q: Just wondering if that Berco cab is still available and will it fit my 127 Cub Cadet?

A: Yes, we have the Berco cabs in stock. They will fit right onto your 127 Cub Cadet.

Q: Can a Berco soft sided cab fit over the loader mounts with the loader off of the tractor? I have a John Deere 445.

A: Yes, the cab can be used with the loader frame on the tractor.

Q: Will your Bercomac tractor cab fit on my John Deere 355D (diesel)?

A: Yes, the 700423 cab will fit right on your tractor.

Back to Top

Q: I have a John Deere 318 garden tractor, will the universal tractor cab fit these older tractors?

A: Yes, we have put these cabs on many John Deere 318 garden tractors and they fit fine.

Q: For a couple of years I've thought about a tractor cab but the cost was usually prohibitive. Your price is about half of a factory soft side cab.

I have a 1994 Simplicity Broadmoor 16.5 hydro lawn tractor. I have 120 lbs in a weight box on the back that is mounted on by the bagger brackets and a hinge pin thru the trailer and tow accessory mounting hole.

What kind of problems could I run into in mounting your universal cab?

Is there anything else I need to know?

A: These cabs are very universal. You do not have to hook it on the rear hitch. Just take and bolt it onto something solid in the general area. It should work out good for you.

Q: I was wondering if your lawn tractor cab will fit a Simplicity Legacy XL.

A: Yes, it will fit fine. You will have no problem fitting it on your lawn tractor.

Q: Will the Berco cab you offer fit a new John Deere 180 lawn mower? The local dealer didn't have any cabs.

A: The cabs I have will fit right on your John Deere 180 tractor.

Q: I am interested in your universal tractor cab. How would it mount to my AC 716H (Simplicity 7016) garden tractor?

A: Our universal cab would mount on that size tractor very easily. There is a mount that goes on by your left toe and another mount that goes on by your right toe, then there is just one bracket in the rear that can bolt on to any of your hitch area.

Q: How do you ship? How long is the assembly? Sounds like an interesting approach and cheaper than most other options.

A: I would say it would take about 2 hours to assemble the cab. Once you have it together it only takes about 5 minutes to put it on or take it off of your tractor. One of our customers suggests warming the vinyl up first.

We ship FedEx ground.

Q: I noticed someone put the snow cab on a Wheel Horse. Do you know if it would fit a 5XI series Wheel Horse garden tractor? It is their largest tractor.

A: I am quite sure the cab will fit, I checked and it doesn't appear to be any larger than the John Deere 455 diesel and I've installed a cab on that.

Q: Will your tractor cab fit a Wheel Horse C-160 tractor? The cab bolts under the seat so I am wondering how/where your cab fastens to my C-160 and where do the bolts fasten to my tractor?

A: Yes our cab will fit fine on your tractor. The cab fastens where your left toe is at on your running boards, then where your right toe is at too. This holds up the front of the cab. The rear of the cab is held up by a bracket that comes down and hooks up to somewhere on your rear hitch, or anything else in the area that is solid.

Q: I saw you tractor cab on the internet...WOW Will it fit a Craftsman DYN 4000 lawn tractor?

A: Yes, I'm not sure of the size of your tractor but I haven't seen a Craftsman tractor bigger than what this cab fits. The dimensions of the cab are:

34 inches wide
43½ inches long
68 to 74 inches high

Q: Will this fit the early Simplicity Landlord & Allis Chalmers B-10's?

A: Yes, our Bercomac universal tractor cab will fit your tractors.

Back to Top

Q: Does the universal can fit a John Deere 425 garden tractor? How long for delivery?

A: Yes, this cab fits the 425 John Deere garden tractor, We can send you one, if we have them in stock it takes about 3 days to get it.

Q: Curious if the universal cab will fit on a John Deere GX345 garden tractor. There doesn't seem to be many manufacturers out there, and right now, you're beating everybody in price by almost half. Got my 345 almost a year ago with a snowblower. Used to have a LX model with a blade and never really had much of an issue except for getting a little cold. With the blower, it's a different story ... can only use the wind to your advantage most of the time. Ended up with a face full more than once last year.

A: Yes they are nice cabs for the money and it will fit on your GX345 John Deere as we already have put them on the John Deere 455 Diesel garden tractor. That's great our price is lower! I have to agree, it's when you are snowblowing it's really nice to have a cab. I've blasted myself a few times.

Q: I have a an older Simplicity 716H lawn tractor. Will your cab fit my tractor?

A: Yes, it is a universal type cab and will fit your size tractor very well.

Q: I am wondering if model 700423 Bercomac garden tractor cab will fit on a 2004 John Deere LT 180 series lawn tractor.

A: Yes, this cab should fit your lawn tractor just fine.

Q: How well would your cab fit on a C-175 Wheel Horse?

A: Yes, it will fit right on that tractor

Q: Would your universal cab fit a John Deere 212 garden tractor?

A: You won't have any problems installing this universal cab on your John Deere 212 garden tractor.

Q: I am looking at a 2006 Simplicity Prestige tractor. Will the Berco cab fit on that O.K.? Will I just have to drill a hole in the floor boards?

A: Yes, I checked into it and this 700423 cab will fit right on your tractor very
easily. One bracket will come down and mount by your left toe and another bracket by your right toe. To hold the rear of the cab up, there is a bracket coming down that will mount to your rear hitch. It's very fast and simple to do.

Back to Top

Q: I have a John Deere 335 garden tractor, is there a cab that fits this tractor?

A: Yes our 700423 universal tractor cab fits right on this tractor.

Q: Will this cab fir my John Deere 240 garden tractor? I live fairly close to you, can I pick the cab up?

A: Yes, the 700423 cab fits great on your John Deere 240 garden tractor. If you want you can pick the cab up anytime M-F 9 AM to 10 PM. Saturday until 6 PM.

Q: I would like to know if this cab will fit a John Deere X595 garden tractor.

A: The cab will fit a X595 John Deere. We have already installed them on a John Deere 445 garden tractor.

Q: Can you tell me if your tractor cab will fit an older Gravely 424 4 wheel tractor? I assume there will be some modifications required. Also, Access to the Gravely engine is by lifting the rear "hood" up, similar to a trunk. Do you think I'll have to undo the hitch attachment each time to get access to the engine?

A: They are very universal cabs. We have mounted them on the John Deere 430 diesel garden tractor which I think is about the same size as your tractor. If you mount the cab so the sides of the cab hang over or beyond the left and right side of your rear hood there should be room inside the cab for your seat to come up and forward. It is fairly universal so you can pretty well work around your problems.

Q: I have a Cub Cadet 1554GT garden tractor. This model does not have hydraulic lift for the blower, therefore the operator needs to manually lift with a long lever on the right side. Would your cab allow enough room inside the cab to do this?

A: Yes, you will have plenty of room for your lever.

Q: Would the #700423 tractor cab fit my old Case 446 garden tractor? It has the very large tires on the rear.

A: Yes, this is a large universal cab that we already put on quite a few of the larger garden tractors and it fit that with no problems.

Q: Will your tractor cab fit on my John Deere L120 lawn tractor?

A: Yes, my universal cab will fit you L120 John Deere.

Back to Top

Q: I have a John Deere LX277 lawn tractor that I am looking to add a cab to this winter for blowing snow. It is a very nice tractor and I want to add something that looks and fits like it was designed for, and belongs on, the tractor. Do you have a cab that fits this description? It doesn't have to be green, but it would be nice.

I have built a removable weight box that is mounted on the back of the frame, and uses the trailer hitch as part of the support. I would like to know if you have any mounting information that you could send me so I can see how this weight box would work with a cab. I have seen some photos on your web site, and everything looks good, but I am looking for something more specific to the John Deere LX277 tractor. Can you tell me if I have to drill any holes in my lawn tractor or will the tractor cab bolt to existing holes?

A: The Bercomac tractor cab will fit your tractor and can be fitted around your weight box. You need to drill two small holes by your left foot and right foot to hold the front and the rear. It just bolts to your rear hitch so it's easy to put on.

Q: I have a 2001 John Deere 355D garden tractor and wonder if your Berco cab will fit it and can a person haul the tractor with the cab on down the highway at speed or do you have to remove it?

A: The Berco cab will fit fine on your 355D John Deere as we have already put them on the 455D John Deere garden tractor and it fits on that O.K. I would say you could haul it around town O.K., but hauling on the freeway would be pretty hard on it.

Q: Will the Berco Universal Tractor Cab fit my White GT950H garden tractor?

A: Yes the Bercomac universal tractor cab will fit your tractor nicely.

Q: Am I correct in thinking the Universal Tractor Cab Model 700423 will fit my John Deere L111 lawn tractor? The dimensions seem to be " in the ballpark". The tractor will have the 2 stage snowblower mounted on the front.

A: Yes, it will easily fit on the JD 111 as it also fits the bigger tractors.

Q: I was wondering if the universal tractor cab would fit a Sears lawn tractor type LT series.

A: Yes, this cab will fit a Sears lawn tractor, it will be plenty big enough for you.

Q: Will this tractor cab fit a Craftsman LTX 1000 lawn tractor?

A: Yes, this cab will work for you.

Q: I have a John Deere model LX176 lawn tractor, what soft sided snow cab do you sell that will fit this model?

A: I have the Bercomac soft sided cab system that will fit right on your
LX176.

Back to Snow Removal